Wrought Iron Fences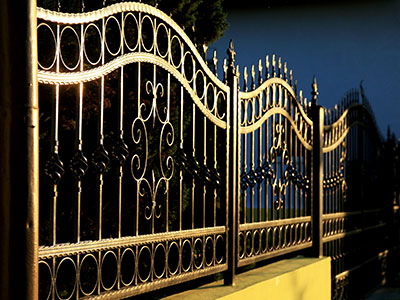 Custom fences are generally ornamental in design, elaborate in structure and made of wrought iron. These features add a royal touch to any property. Often, property owners that order wrought iron entrance gates also install complementing fences, railings, and balconies on their property. We at Swim-Rite Pools have handled a significant number of wrought iron fence design and installation projects for clients in Torrance, Redondo Beach, and Hermosa Beach.

Word of our expertise has spread to Manhattan Beach, Rancho Palos Verdes, Palos Verdes Estates, as well as Palos Verdes Peninsula. Our superb wrought iron railings adorn numerous properties in Rolling Hills, San Pedro, Lomita, and we cater to clients in the surrounding areas as well.


Custom Wrought Iron Fencing In Torrance
Ornamental wrought iron designs and styles aren't limited to fence & gate features. Many of our clients that get wrought iron fences for their property also request for similar installations near their pool and patio spaces. In these areas, the fence becomes a feature that demarcates the landscape and adds structure to it.

Whether you are looking to add a modern or exotic Moroccan look to your home, ornamental wrought iron fences, gates, and railings will help you achieve that. Besides enhancing the aesthetics of your home, you'll be adding significant value with features that are known to virtually require no maintenance and are durable.


Wrought Iron Fencing In Torrance – The Benefits
Wrought iron fences are primarily made of iron and have some carbon content that makes them extremely resilient. However, they are also malleable enough to be crafted into intricate patterns and designs.
One of the most notable advantages of wrought iron is its durability. The recommendation is that you should paint it every 10-15 years. If kept in good shape, these installations can last for decades without any deterioration.
Even if the wrought iron starts to rust, it will take a number of years to impact the metal's integrity. In fact, most property owners prefer the old patina of dated wrought iron.
The very strength that makes this material last such a long time also makes it ideal for security fence installations. That's why it isn't unusual to see wrought iron security gates & fences or half-height brick walls with wrought iron fencing features gracing their top. When you're looking for a strong and reliable material, wrought iron is aperfect choice. It's a great way to keep trespassers off your property.
Since they have a classic look of wrought iron fences lends any property a unique appeal,reminiscentof the beauty and grace of bygone eras.
When you compare the classic appeal of wrought iron fences to the harsh appearance of tall wooden privacy fences, the former is distinctly more pleasing. The open design allows people to focus on the property's beauty rather than just a plain expanse of the fence. When coupled with tastefully designed landscapes, nothing beats the quintessential beauty and appeal of wrought iron fencing.

If you are looking for high-quality fence installations, we at Swim-Rite Pools are the professionals to contact. The number to call is 310-704-8105. We assure you of the best services at the most competitive wrought iron fencing cost. You can also send us your project details via this Contact Us form and we will revert shortly.