Spa Additions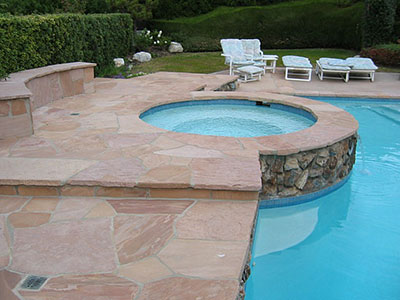 Your lifestyle and home is unique. It's a reflection of who you are, what your style preference is and more. While adding a spa feature to existing pools is a very popular yard upgrade in Torrance, the reasons why you want this feature added are distinctly unique. Maybe you want a spa added for entertaining, social or health reasons or for improving the appeal and value of your property.

With the addition of this structure, you'll be able to simply relax in privacy, spend enjoyable moments with family and friends and enjoy the outdoor spaces on your property more. The spa jets and warm water provide a soothing massage and invigorating hydro-therapy. We at Swim-Rite Pools have handled a significant number of spa additions projects for clients in Torrance, Redondo Beach, and Hermosa Beach.

Word of our expertise has spread to Manhattan Beach, Rancho Palos Verdes, Palos Verdes Estates, as well as Palos Verdes Peninsula. Our creations adorn numerous properties in Rolling Hills, San Pedro, Lomita, and we cater to clients in the surrounding areas as well.


Spa Design and Installation In Torrance
Nothing enhances the functionality and aesthetic of your pool quite like a custom-designed spa. With creative design, and the right planning, a spa can easily transform your outdoor living space and pool into a luxurious and comfortable oasis to enjoy whenever you want.

When it comes to spa design, there is absolutely no limit to our design team's imagination. They make adding a spa to an in-ground swimming pool a breeze. We bring years over 25 years of residential spa construction experience to the table. You'll be thrilled by the well-planned and beautifully-structured spa our professionals add to your backyard spaces.


In-Ground Pool Attached Spa Design - The Advantages
An attached spa connects to your existing swimming pools water circulation system. This allows for the new feature to blend in seamlessly into the pool's design layout and water expanse.
You can choose from a range of spa sizes, spa jets, air blowers etc.

Our custom design and fabrication solutions ensure you get the type of spa you have envisioned for your pool space. There are a number of different ways in which we can add a spa to your pool such as:


Naturalistic Spa -This feature often has water rocks, plantings and water to create a tropical-like feeling of serenity for relaxation.
Spillover Spa - This design can be easily incorporated into your existing pool design. It has an elegant and classic design and placing it adjacent to the pool, allows for the pool & spa water to mingle. You would need only one pump for both the features and this reduces the overall maintenance costs.
Custom Spa Design and Plans
We can also design and install detached spa features, if that's what you prefer. This self-contained feature can be installed in any area of your yard and we don't need to renovate your existing pool while constructing this feature. In fact, this spa addition can become the focal point of your yard, depending on it design and placement.

If you are looking for high-quality spa installations, we at Swim-Rite Pools are the professionals to contact. The number to call is 310-704-8105. We assure you of the best services at the most competitive spa addition cost. You can also send us your project details via this Contact Us form and we will revert shortly.