Aluminum Fences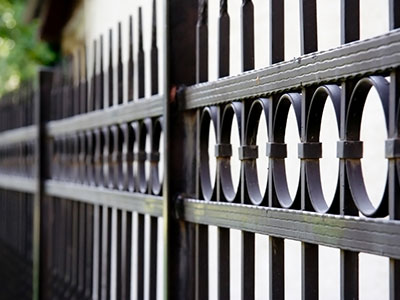 Aluminum fencing is undoubtedly one of the most elegant and durable fencing available today. In fact, this material is available in a range of colors and styles and is very durable, making it an excellent option for commercial as well as residential properties. We at Swim-Rite Pools have handled a significant number of aluminum fencing projects for clients in Torrance, Redondo Beach, and Hermosa Beach.

Word of our expertise has spread Manhattan Beach, Rancho Palos Verdes, Palos Verdes Estates, as well as Palos Verdes Peninsula. Our creations adorn numerous properties in Rolling Hills, San Pedro, Lomita, and we cater to clients in the surrounding areas as well.


Residential Aluminum Fencing Installation In Torrance, CA
In Torrance and the surrounding areas, residential aluminum fencing is largely installed to demarcate individual properties, apartment complexes and low-security parking lots. Our experts have also installed aluminum fences around swimming pools and spa areas, using features that meet or exceed all the existing local codes.


Commercial Fence Installation
Commercial clients hire us to design and install aluminum fences to enclose shopping centers and malls, office building properties, schools, factories and parking lots.


Aluminum Gate Installation Services
We believe that gates are a vital component of all our fencing projects; it's why we also provide aluminum gates to complement all types and styles of aluminum fences. Using structurally sound and resilient gates in all the projects we work on, has made us one of the most sought-after aluminum fencing contractors in the region. We can also install self-latching gates and magnetic gate latches on the gates, to keep children or pets from entering the pool space.


Porch/Deck Aluminum Railings Design and Installation Services
The aluminum porch or deck railings we offer are durable and low maintenance features. We utilize top-quality aluminum castings and extrusions, factory-assembled sections and components, resulting in the premium aluminum railing systems. Our company also provides decorative and aesthetically-appealing add-on castings to customize your fencing project. These features create a charming welcome to your landscape, garden or home.

Whether you need fencing to demarcate your property's boundary, deck or porch, our custom aluminum fences and aluminum gates will become the ideal finishing touch, enhancing the appeal of your outdoor spaces for a number of years. There are a number of benefits to opting for aluminum fencing such as:


Cost-effective
Customizable
Available in a range of colors and styles
Easy to maintain
Rust-free
Durable
Provides excellent security
Aesthetically appealing
Custom Designed Aluminum Fences
Our aluminum fencing panels are also rackable; this means they can adjust to the contours of your land. If fencing isn't rakable, it will leave behind ugly gaps at the bottom of the feature, when going down or up a grade. We use high-quality aluminum fencing products with iron-clad warranties.

If you are looking for premium aluminum fence installations, we at Swim-Rite Pools are the professionals to contact. The number to call is 310-704-8105. We assure you of the best services at the most competitive aluminum fencing cost. You can also send us your project details via this Contact Us form and we will revert shortly.