Vinyl Fences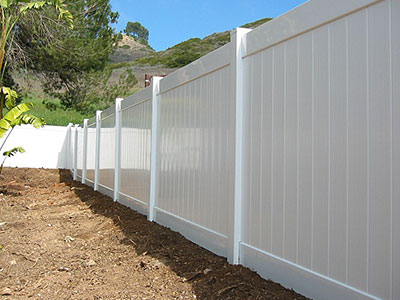 Although vinyl is a relatively new fencing material, it has now become increasingly popular due to its versatility, resilience, and longevity. It's also a low-maintenance feature and the best quality products come with lifetime warranties. However, it's still important that you hire skilled and professional vinyl fence contractors for the installation.

We at Swim-Rite Pools have handled a significant number of vinyl fencing projects for clients in Torrance, Redondo Beach, and Hermosa Beach. Word of our expertise has spread to Manhattan Beach, Rancho Palos Verdes, Palos Verdes Estates, as well as Palos Verdes Peninsula. Our creations adorn numerous properties in Rolling Hills, San Pedro, Lomita, and we cater to clients in the surrounding areas as well.


Custom Vinyl Fencing Design
Our company specializes in vinyl fencing design and installation, railing and other yard features. We acquire top quality vinyl fence components and extrusions and fabricate the features to the highest standards.

We understand that every client will have different requirements and budgets when it comes to their vinyl fencing. Using Latest precision vinyl routing technology, we efficiently design & fabricate a wide variety of vinyl fencing & railings. Our experts customize the designs to meet client requirements and can craft almost any type of vinyl fencing you need.


Expert Vinyl Fencing Installation In Torrance
Once the fabrication of the vinyl fences is complete, we also provide expert installation services and complete the project to industry standards. Our vinyl fencing installers have years of experience behind them, ensuring you get superior features that are aesthetically appealing and long-lasting too.

Manufacturer warranties cover the products we use in our projects. Our company stands very firmly behind the quality of its workmanship, which we cover with warranties of our own. We don't subcontract any of the work, ensuring high quality and professional service at all times.


Vinyl Fencing - The Benefits
There are a number of benefits to opting for residential and commercial vinyl fencing such as:


You can choose from a wide variety of styles, colors, and designs to suit the style and aesthetic of your property.
Vinyl fencing requires minimal maintenance and you only need to hose it down every once in a while to keep it looking as good as new.
These features are termite, rot, fade, and warp-resistant and are able to weather the elements well.
Vinyl fences are versatile and look great in almost any setting. You can install these in poolscape areas as well.
Installation is easy and depending on the design chosen, they offer good privacy
Enhance the aesthetics of your landscape.
Custom Designed Vinyl Railings
When you hire us for your new vinyl fence installation or vinyl railing replacement project, you can rest assured that you have skilled, knowledgeable, trained and experienced professionals handling the job. Since there are a number of different products, all with different features and warranties, we will provide you all the information you need to make a well-informed decision.

If you are looking for high-quality fence installations, we at Swim-Rite Pools are the professionals to contact. The number to call is 310-704-8105. We assure you of the best services at the most competitive vinyl fence cost. You can also send us your project details via this Contact Us form and we will revert shortly.