Rock Formations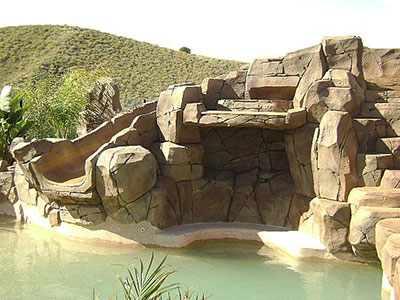 Have you considered using rock features in your landscaping project? Your landscapes should be an idyllic oasis where you and your family can spend some leisurely moments. Whether you are considering a yard upgrade or want to spruce up the look of your pool and spa areas, rock formations can be the perfect addition to the outdoor areas of your property.

We at Swim-Rite Pools have handled a significant number of rock feature design and installation projects for clients in Torrance, Redondo Beach, and Hermosa Beach. Word of our expertise has spread to Manhattan Beach, Rancho Palos Verdes, Palos Verdes Estates, as well as Palos Verdes Peninsula.

Our creations adorn numerous properties in Rolling Hills, San Pedro, Lomita, and we cater to clients in the surrounding areas as well. We work closely with our clients to turn their landscape vision into a reality with our custom boulder settings, creating a very natural look in their landscape.


Rock Formation Services
Our creative and talented landscape boulder designers take the overall theme and topography of your landscape into account while a providing rock formation solutions. Some of the areas we can install these features in your landscape include:


Pool: we can create stunning rock formations around your new or existing inground swimming pool. If you want to give your pool a makeover and really add some features then perhaps we have the answer for you? Talk to one of our friendly team members today and we will provide you with all the design inspiration that you need to transform the look and feel of your swimming pool and surrounds.


Spa: do you have a spa and feel like you need to add some kind of focal point to give it a bit more pizzazz? Then perhaps what your spa surround need is a rock formation as a statement piece? We really can work together to bring your visions to reality and make your spa surrounds feel natural and increase the aesthetic appeal of your backyard all together!


Waterfalls: when thinking of adding a waterfall feature to your property there is one thing for certain and that is that you want it to look as natural as possible. We want to create the perfect and most realistic looking waterfall for you too. That is why we use products that will get the best end product but that are also within your budget. If cost is a factor we don't have to use natural stone we can use faux stone, rick and boulders that will give you the same visual effect!
Custom Rock Formation Solutions
Our designers can also design creative rock and pebble pathways, relief features in the lawn areas; they can decorate flower beds and planters with rocks, providing an aesthetic appeal and charm to your landscape or yard. The idea is to create cohesive and well-balanced outdoor spaces that flow seamlessly into one another.

If you are looking for high-quality landscape rock formation installations, we at Swim-Rite Pools are the professionals to contact. The number to call is 310-704-8105. We assure you of the best services at the most competitive rock formation cost. You can also send us your project details via this Contact Us form and we will revert shortly.

Click on the images below to view a larger display.


Photo 1

Photo 2

Photo 3

Photo 4

Photo 5

Photo 6

Photo 7

Photo 8

Photo 9

Photo 10

Photo 11

Photo 12