Services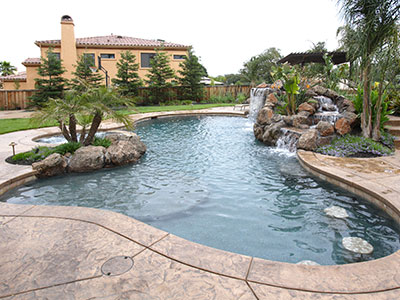 We at Swim-Rite Pools have handled a significant number of pool surfacing and related projects for clients in Torrance, Redondo Beach, and Hermosa Beach. Word of our expertise has spread to Manhattan Beach, Rancho Palos Verdes, Palos Verdes Estates, as well as Palos Verdes Peninsula. Our creations adorn numerous properties in Rolling Hills, San Pedro, Lomita, and we cater to clients in the surrounding areas as well. The ranges of services we offer include:


Pavers
Whether you're considering adding a classic look to your patio, or a modernist style to your driveway, we offer excellent concrete paver design and installation solutions that emulate the look of stone and brick. We can help design stunning driveway & walkway paver designs. Pavers are available in a variety of shapes, styles, and tones so you can add charm and a unique look to your property. In addition to style, these paver units are designed to be durable, environmentally-friendly and strong, ensuring your patio or driveway will last for a number of years. Read More About Pavers »


Surface Finishes
Whether you have a modest-sized aboveground swimming pool or a more elaborate, in-ground feature, it adds to the functionality, appeal, and value of your property. A pool becomes the perfect spot to enjoy fun moments with family & friends and it offers excellent exercise opportunities too. However, you need to have the right surface finishes for your pool. We have the skill and expertise to provide all types of surface finishes such as traditional Plaster, Plasterscapes, Quartzscapes, Stonescapes and Beadcrete. The best materials and top-notch workmanship ensure you get stunning pool surfaces that last for decades. Read More About Surface Finishes »


Decking
Adding a pool to your backyard creates a stunning focal point. However, once this feature has been installed, it's also important to decide how you are going to plan the poolscape. The right type of decking will be the perfect setting for your new pool. Whether you're constructing a new swimming pool or updating an existing pool deck, there is a range of options to choose from. Our experts can create an attractive poolscape on your property. They have the experience as well as skill and training to install concrete pavers as well as natural stone pool decks. Read More About Decking »


Coping
If you have an in-ground pool made of concrete, on your property, it will need coping. The edges of the pool will have this installation. Not only does it provide a well-defined look to the pool but also adds to the value and aesthetics of the feature. It's a great way to accentuate the appeal and aesthetic of your pool. We offer a wide variety of coping options such as concrete stamp / color, stone of all types, cast, brick bullnose/safety grip, and artistic pavers too, Regardless of the material you opt for, you can rest assured that we will handle your coping installation project to perfection. The best materials and craftsmanship ensure you get coping that is functional, resilient and durable. Read More About Coping »


Tile Installation
Pool tiling is a popular pool surfacing choice for most property owners. However, this job involves skill, experience, and creativity and that is what you get when you hire our services. When you are getting pool surfaces installed, we understand that it's important to work properly and ensure that these surfaces complement the look and design of the existing features. You can choose from tiles made of porcelain/ceramic/glass for a decorative look. Tiles are available in a variety of shapes, sizes, and textures. You may also like the uniqueness of custom tiled mosaic tiles that can accentuate your swimming pool's surface. Our expert tile installers will give your swimming pool beauty & superior craftsmanship. Read More About Tile Installation »


Spa Additions
Your lifestyle and property are unique. It is a reflection of your preferences and personality. While adding spa features to an existing pool is a very popular upgrade project, we understand that every client wants these for different reasons. With the addition of this feature, you will be able to relax & spend enjoyable moments your family and enjoy the outdoor areas of your property. A spa can be connected to your existing pool's system. This allows the spa to blend in cohesively with the pool's design layout as well as the water expanse. You can choose from a number of different spa sizes, spa jets, and air blowers etc. Read More About Spa Additions »


Water Features
Landscape water features enhance the beauty of your landscape and other outdoor living areas, by incorporating an attractive new look and providing a serene and calming background noise. We can design and install cascading fountains, spouting fountains, wall fountains, pondless waterfalls and fountains, vase and rock fountains, ponds as well as streams. Whether you want a simple, modern water feature, a Koi pond, Zen waterfall, a rustic tropical waterfall or even an elaborate stone fountain, we can provide custom designs that will complement the look of your landscape. Read More About Water Features »


Rock Formations
Our talented and experienced landscape boulder designers take the theme and lay out of your landscape into account when designing rock formation solutions. Some of the spaces that we can install these elements in your landscape are rock borders, poolscape & spascapes, flower beds, along pathways and planters and in lawn areas. Our landscape designers can also plan creative rock & pebble pathways, and relief features in the grassy areas. We can decorate flower beds & garden planters with rocks and boulders, providing an appeal and charm to your yard or landscaping. The idea is to create well-balanced outdoor spaces that flow beautifully into one another. We use rocks, stones and boulders of different colors, shapes, and sizes in order to achieve the look you want. Read More About Rock Formations »


Fencing
Fences are an essential addition to any property. They enhance the security levels of a property, demarcate boundaries add to the aesthetics and value of a property. We can design and install fencing made of materials such as aluminum, wood, vinyl and wrought iron. The designs we create will complement the look and styling of other features on your property as well. We provide custom solutions that will suit your preferences and budget. The best quality, weather-resistant materials will be used in the work and this means the fences will be able to endure climatic conditions well and last for a number of years without any trouble. Read More About Fencing »

If you are looking for high-quality wood fencing installations, we at Swim-Rite Pools are the professionals to contact. The number to call is 310-704-8105. We assure you of the best services at the most competitive timber fencing cost. You can also send us your project details via this Contact Us form and we will revert shortly.


Construction * Remodel * Installations
Manufacturers
Pentair
Raypak
Hayward
Jandy
Purex
Sta-Rite
Waterway
Hasa
Mp Industries
Valpak
Spears
A o Smith
Intermatic
Polaris
Kreepy Krauly
Barracuda
Navigator
Pool Vergnuegen
National Pool Tile
Fujiwa Tile
Master Tile
Pacific Clay
Artistic Pavers
Belgard
Angelus
Sundek