Pool Builder Manhattan Beach CA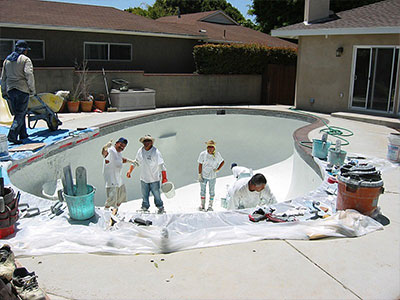 If you are planning on getting a residential swimming pool installed on your property, you like to make sure that the operator you hire for the job would be able to offer the kind of solutions you require. Swimming pool installation involves a lot of planning and investment, and you want to get it right. One of the best ways you can be sure this will happen is to hire the services of proven operators like us.

We at Swim-Rite Pools are a reputed and well-established pool builder Manhattan Beach CA. Since our inception, we have handled a significant number of projects for clients across the region. We have the experience, skill, and expertise to offer a wide range of pool remodeling and construction services ranging from spa and water feature additions to tiling replacements, surface finishes, and more.


Customized Swimming Pool Building Services
Our team of expert pool builders can handle pool construction for you and design every aspect of the feature to meet your lifestyle requirements. They take great care to ensure that the size and style of the pool fit in perfectly with the overall space and aesthetics of your landscape.

Our team of expert and creative swimming pool designers works with you to make sure that your swimming pool is as per your needs. We have vast experience in this industry and are in sync with the latest trends. Regardless of whether you want a new pool constructed or your existing one remodeled, we are here to help.

We go the extra mile to make sure that your swimming pool build project runs without a glitch and we build the feature to industry standards. Our company handles every aspect of the job and makes sure that your swimming pool is a valuable addition to your property.


Hire the Best Swimming Pool Builders
When you start looking online for a pool builder in Manhattan Beach, CA, you will find that there are many companies in this industry that offer the services. However, very few can ensure that the pool is constructed exactly as per your specific requirements and fits into your budget. We work very closely with our clients and take the time to understand what their ideas for the swimming pool are.


Range of Swimming Pool Surface Refinishing Services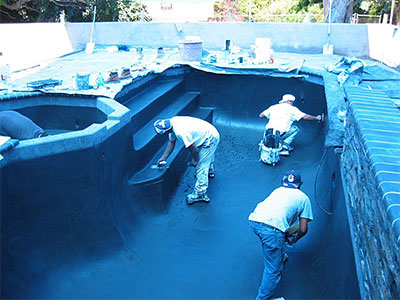 While some clients require very straightforward designs, others want stylistic features with exotic elements. We handle every aspect of your swimming pool design & build project and complete it within the stipulated time frame.

We have the expertise to tackle everything from tiling installation to coping installation, water feature design, and install and poolscape paver installations. We are a creative and innovative pool builder in Manhattan Beach, CA that can handle surface refinishing using various materials such as pebble finishes, quartzscapes, jewelscapes, stonescapes, bedecrete, traditional plaster, and more.

If you are looking for a pool builder Manhattan Beach in CA who would be able to transform your vision into reality, we are the company to call. Feel free to contact us at 310-704-8105 or drop us a line via this Online Form, and we will respond within the shortest possible time.