Jewelscapes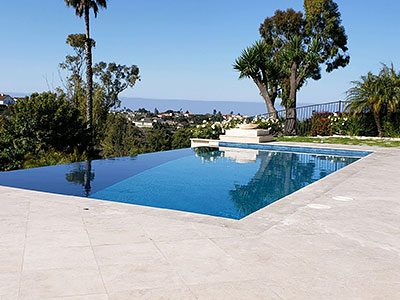 Over time, all swimming pools show some signs of wear or aging. The design may start to look dated, there may be a change in the manner in which you use your pool or there may be some damage to the pool's surfaces due to poor maintenance. Regardless of the reasons, if you need a pool remodel or resurfacing, we are the company that can bring this feature back to life.

We at Swim-Rite Pools have handled a large number of pool surfacing projects for clients in Torrance, Redondo Beach, and Hermosa Beach. Word of our expertise has spread to Manhattan Beach, Rancho Palos Verdes, Palos Verdes Estates, as well as Palos Verdes Peninsula. Our aggregate pool creations adorn numerous properties in Rolling Hills, San Pedro, Lomita, and we cater to clients in the surrounding areas as well.


Jewelscapes Pool Finish Installation
Today, there is a wide variety of pool surfacing materials and products to choose from and Jewelscapes is a very popular pool resurfacing material. Whether you want this surface installed on a new pool or as part of a pool remodeling project, we can handle the job expertly for you. Resurfacing your pool with Jewelscapes products is a very cost-effective way to bring your dated and dull old concrete swimming pool back to life.

This resurfacing not only improves the aesthetics of the pool but adds significant value to your residential property too. Most concrete pools, water features, and spa features can be easily resurfaced with Jewelscapes. It is suitable for resurfacing pebble pool surfaces, marblesheen pools, and concrete pools.


Types of Jewelscapes Finishes
The complexity of the swimming pool resurfacing project will largely depend on the condition of the pool's shell as well as whether or not any new contours/steps are to be added to your existing pool. There is a variety of Jewelcsapes pool finishes to choose from such as:


Classic Finishes - These have the beauty of colorful, smooth glass beads with top quality aggregates and pigments for incomparably stunning finishes.
Opal Series - This series is a superb blend of crystal clear, colored, glass beads that create outstanding finishes for distinctive looking pools.
Reflective Series - The brilliance and sparkle of glass beads in various effects create a mesmerizing impact in your pool.
One Series - This series is available in dazzling colors and is a very unique finish for pools of any size and theme.
Glass Blends - Glass adds sheen and beauty to just about any feature it is added to. This series is a mix of all the popular Jewelscapes glass beads for pools to lend sparkle to the installation.
Custom Pool Resurfacing Services
While these surface finishes are extremely durable and long-lasting, the installation needs to be handled with care. As a company that has been handling similar projects for over 25 years, we have the know-how, skills, technology and the experience required to complete your Jewelscapes pool resurfacing project to the highest standard.

Even as we maintain the highest quality standards, we also maintain very competitive Jewelscapes cost. You can rest assured that our team of expert technicians will complete the project efficiently and with the least amount of disturbance to the workings of your property.

If you are looking for high-quality pool installations, we at Swim-Rite Pools are the professionals to contact. The number to call is 310-704-8105. You can also send us your project details via this Contact Us form and we will revert shortly.