Water Features Redondo Beach, CA
Water features are great additions in any landscape or outdoor area. They do not only improve the aesthetics of the area but also provide health benefits for property owners, their family, or guests. In fact, adding a simple waterfall can already change the mood and ambiance in a predominantly green landscaped area. It can also relieve stress and even provide therapeutic effects.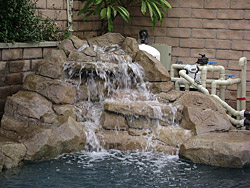 If you also want to experience these wonderful benefits, please call us at Swim-Rite Pools. We have the expertise in designing and installing water features for residential and commercial properties. Our outstanding water feature installations in Redondo Beach, Torrance, Long Beach, and nearby areas are just some examples of our creativity and capabilities as a contractor. We can also design and install one in your property by calling us at our hotline today.


Awesome Water Features
At Swim-Rite Pools, we follow a systematic procedure when creating water features for our California clients. We start the process by conducting an ocular inspection of the area and discussing with clients the various design options and possible amenities that we can install in their properties.

We also consider their needs and personal preferences to ensure that they will be satisfied with the results once we are done with our work. This approach has been very effective and has helped us create awesome water features for our past and present clients.


Our Recommended Water Features
Property owners can choose any type of water feature for their landscapes or outdoor areas. And at Swim-Rite Pools, we can help them in the selection process by recommending the right features that will perfectly suit their needs and preferences.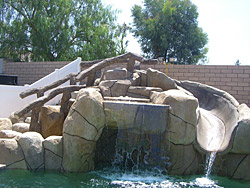 Some of the water features that we can design and install for our clients from Redondo Beach and other cities that we serve include:


Ponds. These features can make outdoor areas more attractive and nature like. With the various flora and fauna that we can add to your ponds, they can easily become focal areas in your property. We can also design different types of ponds, such as garden, koi, or rock ponds.


Waterfalls. The unique charm that waterfalls can bring to your landscape is priceless. When designed by experienced water feature builders, they can dramatically improve the beauty of the areas where they are installed. Waterfalls are also versatile features since they can be installed anywhere. They can be installed near a patio, in the garden area, or as an added feature in a pool.


Fountains. Whether you want a tiered fountain installed in the middle of your landscape or a customized fountain added in the pool area, we can design and build it for you.


Our team can also work on other water features, such as bird baths, artificial streams, and pondless waterfalls. These add-ons are installed in strategic locations in the landscape to achieve the desired aesthetic improvement of the client.


Working with Water Features for Decades
Clients from Redondo Beach, CA and other areas we serve can expect exquisitely designed water features for their outdoor areas. Our decades of experience in pool and spa construction and remodeling have helped us become experts in making gorgeous outdoors that are also functional.

Call us at 310-704-8105 so we can discuss with you if a pond or a waterfall is the best option for your outdoor area.