Pool Remodeling Torrance, CA
At Swim-Rite Pools, we've been making pools more attractive, safer, and more functional with our pool remodeling service. Our successful remodeling projects in Torrance, Long Beach, Gardena, and surrounding areas are proofs of our expertise in this field. So if you think your pool already needs a makeover, please don't think twice about hiring us. We promise to use our skills, knowledge, and logistics muscle to breathe a new life into your pool.


The Need for Pool Remodeling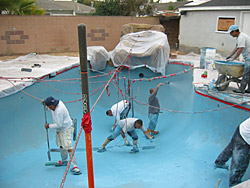 There are some pressing reasons that can make pool remodeling a priority among residential and commercial property owners. And based on our years of experience handling such a project, we have identified the most common reasons:


Addition of specific amenities. Most of the remodeling tasks that we've handled involved adding features and amenities. These include water slides, Jacuzzi/spas, tiered waterfalls, and even fire features. We can add any amenity that you want to make your stay in your pool area much more relaxing.


Surface remodeling. If the pool's flooring and walls already have some chipped spots that could cause injuries to occupants, then immediate remodeling of the pool's surface is needed. We can also remodel your existing pool surface if you feel that it's already outdated and a new one would look better.


Aesthetic boost. Many pool owners in Torrance and other California cities that we serve specifically ask our help to make their pools more appealing. In such case, we normally install custom lighting and brand new materials like pavers for the deck. There are also instances when we put more expensive amenities like an island or a bridge to achieve an awesome pool area.


Damaged wiring, plumbing, or mechanical parts. Over time, certain pool components like wires and plumbing can get damaged. To avoid incurring more costly damages, the remodeling must be started and completed immediately.


Pool Types that We Can Remodel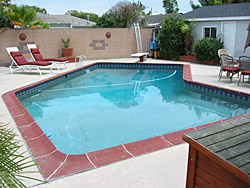 We're a licensed and experienced pool remodeling company that can work on any type of pool. Some of the pool types that we can remodel include fiberglass, gunite, and poured concrete pools. Aside from the pool itself, we can also improve the deck, coping, pool flooring, and other amenities. Just let us know your desired changes, and we'll make them happen.

We can also achieve specific finishes, such as traditional plaster, plasterscapes, quartzscapes, stonescapes, and beadcrete. Just visit our Surface Finishes page to learn more about these awesome options.


Pool Add-ons that We Recommend
We recommend having specific accessories or amenities that will make your pool more functional and safer. Such additional amenities include pool fence or screens, non-slip pavers for the deck, submersible lighting, fountains or mini waterfalls, and the like. We have access to all these extra amenities, so picking any or all of them won't be a problem.


The Best in Pool Remodeling and Installation
Aside from being the leading pool remodeling contractor operating in Torrance, CA and other cities in the state, we also specialize in new construction/installation of pools. We can accommodate residential property owners, as well as owners of commercial establishments, such as recreation facilities, hotels and vacation spots.

Come visit our office or call our customer services hotline at 310-704-8105 so we can better address your specific pool remodeling concern.