Pool Construction Hermosa Beach CA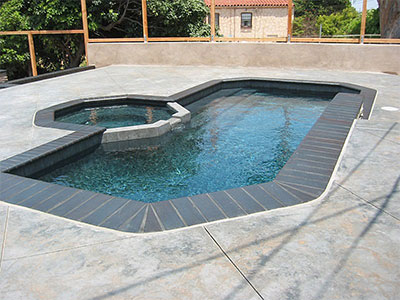 A swimming pool is an excellent addition to a residential property. It is the ideal space for entertaining guests and spending leisure moments with family. However, if you want to make the best use of it, you need to make sure that the swimming pool and the surrounding area are designed correctly. This project involves many different aspects, including excavation, grading, leveling, design, planning, decking, as well as determining which features would work best in that space.

You need to have the right kind of materials, select the right finishes and the pool coping, etc. Since many different things need to be taken into account while planning this job, you need the expertise of an experienced swimming pool company in Hermosa Beach CA that would be able to cater to your specific requirements.


Custom Pool Construction Services
We at Swim-Rite Pools have handled a significant number of pool construction projects in Hermosa Beach, CA. Our expertise in this space allows us to offer clients custom solutions that meet their specific needs, and we handle jobs of any shape and size. When clients are getting their pool built or any features added to it, they want to be sure they are hiring the best.

We have proved our expertise in this space and handle every aspect of the pool design and build project. Our team of experts understands that your pool represents a significant investment. You want every aspect of it to be perfect and that all the materials are durable and weather-resistant. Today, there are many different materials, finishes, and products available in the market.

We take the time to understand your requirements and discuss the characteristics of various products so that you can make a well-informed decision about the type of swimming pool you want on your property. In addition to materials, we also discuss the plans and layout in detail so that your pool construction in Hermosa Beach, CA, is completed to your 100% satisfaction.


Pool Design and Build
Customization helps to ensure that all the features of your swimming pool and its styling, size, shape, and finishing are as per your vision. We have been in this industry for many years and handle swimming pool construction projects of different types. In addition to new construction, we also handle pool remodels in which we can replace or add water features, finishes, and handle re-plastering jobs as well. You will find that all of these services are cost-effective, and they fit into your budget.

Just as we focus on cost-effectiveness, we never compromise on the quality aspect. Other factors that we always keep in view while handling pool construction in Hermosa Beach, CA, are practicality, functionality, and durability. We aim to create features that will be unique yet easy to maintain.

If you are looking for high-quality remodels of pool construction in Hermosa Beach, CA, we are the company to call. Feel free to contact us at 310-704-8105 or drop us a line via this Online Form, and we will respond within the shortest possible time.